Personal disclaimer: I only accept products that I, personally, find useful in my life. These reviews are all unbiased and I try to test the products scientifically whenever possible. The products were sent to me for free to review on a third party site (ie. Influenster, Sephora, Ulta, etc.). I was not obligated to post a review on my blog, but thought it may be interesting to someone.
FTC Disclaimer: The items in this post were sent to me for free in exchange for a review.

I do not know what happened or why, but I was sent many items for free to try in return for my honest review over the summer...it actually hit a weird peak in July. So, I thought I'd recap my thoughts here in semi-brief form. If I loved the product or had deeper thoughts, I'll write a separate dedicated post later (no promises, probably it'll come around winter).
So, I have been getting a lot of emails recently from places that wanted to send me products. Honestly, many of the products do not catch my eye, so I just leave them on read (there are some super insistent brands) and/or decline politely and try to make myself available in the future if they release a new product that is a fit with my lifestyle.
I do not just accept product just for the sake of accepting product. This blog (and the Instagram) are for me, ultimately, so I don't want to keep accepting things that are of no use to me or those around me. I don't want to contribute to so much waste in society and, to be honest, I don't want so much clutter in my house! I don't know how influencers do it! Maybe that's why they all "need" multimillion dollar houses to store all the useless stuff they greedily accept without considering if the product is actually useful to them.

While I haven't been writing on the blog, I have been doing some updates on Instagram. Honestly, it's easier for me to do Instagram updates than blog. I am sure some of you can relate. I am on my computer all day while I am working from home, but somehow it feels different than when I am working all day on my computer at my office.

Since I have been able to use the products for more than a month, I have been able to fully develop my opinions.
I have done some internet searching and found links if you're interested in trying the products for yourself. I, personally, would prefer shopping directly from the brand because you usually get better customer service, samples, freebies, etc. and you also know where the product came from. However, I know some of my readers really do enjoy Amazon, so I have linked the products below that seem to be from reputable sellers (I tried to avoid third parties). For skincare and products you will be applying or ingesting, I would strongly urge you to consider researching the product and seller in detail on Amazon. I know that sometimes it's tempting to get a "deal," but I would rather pay extra and have the assurance that the product is backed by the brand and is authentic.

I definitely have opinions and, if you've been reading for a while, you know that I am honest with my opinions (see my above rant about Amazon skincare products). If you're interested, read on!
Many of the products I received were from
Influenster
. This is a great platform for you to check out, even as a "normal" citizen of the world without any aspirations of influence. I received my first box there before I even had 500 followers on Instagram (
click here to join
).
Makeup:
It Cosmetics Your Skin But Better Foundation + Skincare - $39.50 (It Cosmetics website)

I got mine in
light warm 23.
This was actually a great color match for me. I say this because given the current pandemic, it's not exactly possible to get samples at the store. I was able to choose the correct color for my skin by just reading the description and looking at the shades online.
Honestly, I was quite scared the first time because I was pretty sure it was not going to be a match due to past experiences trying to color match online or at the drug store. To my surprise, it was a great match! There are 40 shades available, which seemed like a pretty good range to me.
I honestly knew about It Cosmetics because I was sent "Confidence in a Cream" a while ago for review (I liked it, but never wrote about it here yet) and I had read about their CC cream (I'm personally not a fan of CC creams in general, so I never tried it).

The idea behind the Your Skin But Better Foundation + Skincare is that it is just that, a combination of foundation and skincare. It is a medium coverage foundation, which is what I prefer (one of the reasons I don't do a CC cream). The skincare component promises better skin within 2 weeks - smoother skin, even tone, texture visibly refined.

I will write a more complete review in the coming weeks, I promise!

Urban Decay Lash Freak Mascara - $25 (Urban Decay Website)

This was received from Influenster for free in exchange for my unbiased review.
According to Urban Decay this is a "volumizing mascara with an asymmetrical brush that lengthens, lifts, and curls lashes for a dramatic, wide-eyed look." It promises

"ultra-pigmented, flake-proof mascara creates 23.6 times more volume and 40% more visible length for the boldest lashes. The asymmetrical brush was designed to load every eyelash with the max amount of formula for extreme volume and definition. The tip defines and separates even the tiniest of individual lashes, while the curved side adds lift at the lash root. The intensely black longwear formula lasts up to 20 hours; it's smudge-proof and sweatproof."
I have oily eyelids and watery, allergy eyes all year round. So, mascara that doesn't flake or give me racoon eyes by the end of the day is always something I am searching for. This formula stays put and does not smudge or flake.

So, again, full review coming soon, but this was a fine product. I enjoyed the formula, but I was not a fan of the brush the first few times I used it. It definitely has a learning curve associated with it. The first few times I used it, I had the worst eyelashes (it honestly looked like I had one eyelash) of my life, but I have since been able to use it in a way that my eyelashes aren't one huge clump.
Skincare:
Estee Lauder Advanced Night Repair (New Formula) - $75 (Estee Lauder | Amazon)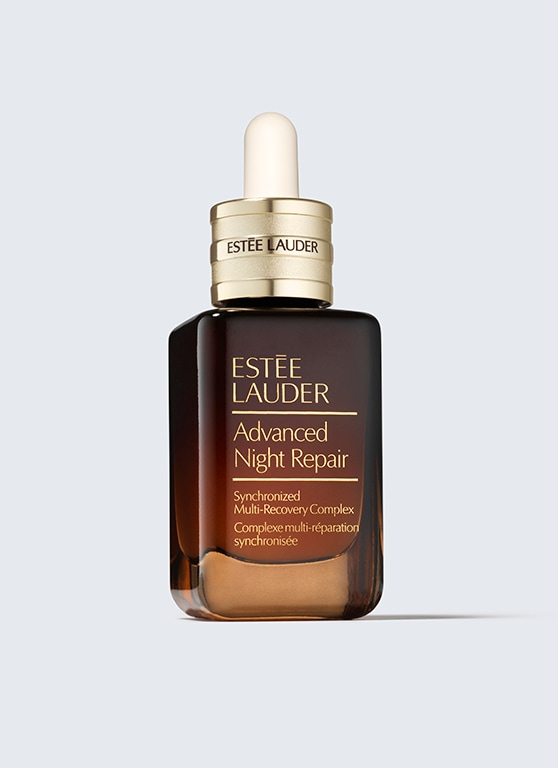 I received two free samples of this product for my review. One sample was from
Influenster
and I am not sure where the other one came from. I gave one to my mom to test on more mature skin and used one to test on my skin. This is a new formula.
I have been wanting to try some new serums these days. Rather, I wanted to try any serum these days. Up until now that was one step of my skincare routine that wasn't really routine. So, I was super happy when these samples showed up in my mailbox.
According to Estee Lauder, this is the "most comprehensive Advanced Night Repair serum ever. Patented until 2033. Now with Chronolux™ Power Signal Technology, this deep- and fast-penetrating serum reduces the look of multiple signs of aging caused by the environmental assaults of modern life. Skin looks smoother and less lined, younger, more radiant and even toned."
I will write a full review later, but overall I have enjoyed trying this product. It did not break me out and has been nice to help moisturize my skin. At the moment, as I am writing, I am doing an experiment where one half of my face I use this product and the other half I use the product below (La Mer) for 14 days. I am going to redo the experiment with each product separately and then use the Grace & Stella serum I received in my Causebox next (blog post about Causebox here).

La Mer The Concentrate - $200+ (La Mer Website | Amazon)

I honestly have no idea why or how, but I have been receiving samples of La Mer in the mail for the past year or so. I mean, honestly, I would never spend my own money on the product because it is so, so, so expensive. But, since I think many of you might be like me I thought I would try out the experiment as described above (3 different price points) and give you my honest thoughts. I will continue trying the experiment as long as I have at least 2 weeks' worth of product left.
According to La Mer "With barrier-building benefits and NEW antioxidant power, The Concentrate is your double source of strength against these daily irritants. Concentrated Miracle Broth™—a super-potent form of our powerhouse elixir—helps reduce the appearance of visible signs of inflammation and helps visibly calm skin so it can focus on natural renewal. With daily use, skin emerges stronger*, more stable and visibly soothed. *After just 14 days, skin's natural barrier was significantly strengthened."
So, obviously, full review coming soon, but...this has a strong scent upon application. So, if you are not a fan of scented products, you can already cross this off your list! It's a very herbal scent and it dissipates relatively quickly, but this is something to keep in mind for you.

Innisfree Daily UV Defense Sunscreen - $15 (Innisfree Website)

I have honestly been using this sunscreen for a few years (I alternate between this one and the Nature Republic one), so I was super excited when I received this in the mail for review because I actually needed to order a new bottle of it soon. I started using this because it was untinted so I could use it on other parts of my body, because it was ++++ (so offered additional protection), and because it has a very light scent that dissipates quickly.
Innisfree says this is "a mild daily lotion that delivers lightweight hydration and invisible protection with SPF 36 to prevent UV damage. Infused with a blend of green tea and sunflower seed oil and reef-friendly sunscreen ingredients, this watery formula blends away seamlessly for a non-white cast finish and fresh glow."
So, as I was looking for the Amazon link (I couldn't find one that isn't a third party seller), I read reviews about this being not great for face under makeup. I have not had that issue when I have purchased it directly from Innisfree at the store (either in Korea or in America). I am not sure if it's because the product from the third-party seller on Amazon is different in any way, but this is a great example of why I am leery about buying skincare from Amazon. I know if I had issues with the product, I could bring it back to Innisfree and ask their advice and they'd either refund me or else give me another bottle to try.

*FTC Disclosure: Some of the links in this post are affiliate links which means, at no additional cost to you, I may earn a commission if you click through the links provided and make a purchase.*